Indian Navy Welcomes New Missile Destroyer INS Mormugao
Indian Navy Boosts Its Fleet with Commissioning of Missile Destroyer INS Mormugao
Remarking that the next-gen warship dubbed INS Mormugao was one of the major examples of India's indigenous defense production capabilities, Rajnath Singh, the country's Defense Minister on 18 December expressed confidence regarding India is capable of catering to not simply local but also global ship-building requirements as well.
Mr. Singh was delivering a speech at Mazagaon docks in Mumbai at the INS Mormugao's Commissioning Ceremony. The latter is the second of the four destroyers belonging to the Visakhapatnam class (also referred to as P-15B stealth guided missile destroyer) well-designed by the Warship Design Bureau of Indian Navy.
Mazagon Dock Shipbuilders Limited developed the warship, reportedly christened after the historical port city based in Goa's coastal state.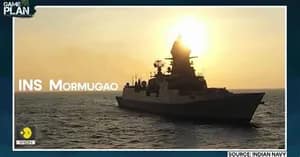 Also present were Chief of Defence Staff (CDS), General Anil Chauhan, of India's Armed Forces; Admiral R. Hari Kumar, Navy Chief; Goa's CM Pramod Sawant along with Sreedharan Pillai, Goa's Governor among others.
The INS Mormugao is expected to be equipped with next-gen sensors and weapons, surface-to-air and surface-to-surface missiles other than modern surveillance radar that provides target data to weapon systems. Able to achieve speeds of over 30 knots, the warship is considered to be able to fight in nuclear, chemical, and biological warfare conditions.
Noting the steady increase in demands for military equipment owing to global security reasons, India's Defense Minister mentioned that our country had every opportunity to utilize its capabilities to the fullest and move forward toward making our country an indigenous shipbuilding hub.
The INS Mormugao was launched in September 2016 and commenced her sea trials on 19 December 2021, coinciding 60 years of the Liberation from Portuguese rule of Goa. Her commissioning on 19 December coincides with the day when 'Operation Vijay' was reportedly launched back in 1961 to free Goa from the ongoing Portuguese rule.
Admiral R. Hari Kumar, India's Navy Chief, mentioned that the achievement indicated the large strides India had taken in warship design and building capabilities in the past decade while mentioning that Indian Navy had a tradition of naming vessels after cities that created an enduring link between the two.