Cargo Ship Breaks in Two and Sinks in Black Sea Storm
Cargo Ship Breaks in Two and Sinks in Black Sea Storm
A small cargo ship registered in Comoros and operated by a Russian crew was caught in a fierce winter storm in the Black Sea causing it to break apart and sink. Russian officials are reporting that one crewmember died of his injuries and a second was in critical condition while nine were being taken to shore.
Residents in the area near Novorossiysk reported hearing a siren this morning, February 21 coming from the offshore anchorage. At the time there was a strong storm raging with winds reported at up to 40 knots and seas at around 10 feet. The Ministry of Emergency Situations of the Russian Federation responded by sending a rescue boat.
Reports indicated that when they arrived on the scene, a 3,200 dwt general cargo ship the Seamark had buckled in the middle of its 355-foot length and was sinking. A lifeboat and a life raft were in the water as well as some of the 11 crewmembers from the ship. 
The vessel which was built in 1981 had been in the anchorage since arriving on February 15 from Iskenderun, Turkey, having departed the day before the devastating earthquake. The Seamark was carrying a load of 3,500 tons of marble chips.
The rescue service initially reported that it had been able to retrieve three people and that a fourth was seen in the water. Later they reported that seven people were being taken to the village of Aleksino aboard one rescue vessel while three others and the body of the deceased sailor were aboard a second vessel heading to Novorossiysk. The individual reportedly succumbed to his injuries aboard the rescue vessel.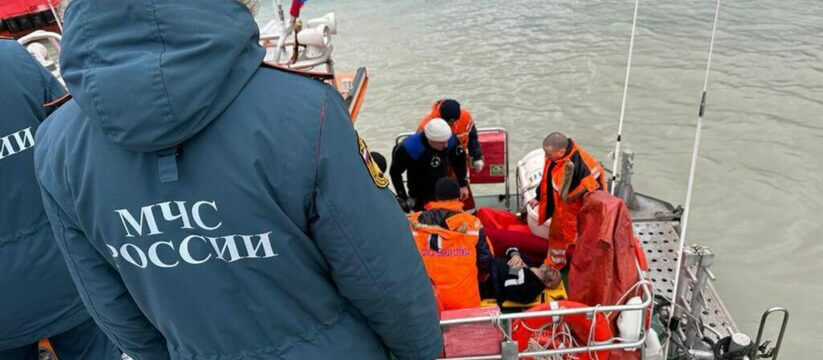 Russian emergency services transferred the crewmembers to shore
The Equasis database reports the vessel's current situation was unknown. It does not record an inspection since 2021 when there were 11 deficiencies identified including issues with the steering gear, alarms, crew training, and familiarization with the emergency systems. Local media reports from Russia are linking the vessel to a management company in Dubai.